Alcove
Alcove means middle room or small side room without windows that can be used as a bedroom. And that is how the name came about for this efficiently furnished camper with a space above the cabin with a spacious double bed. Via a staircase you reach this cozy bedroom, which by the way is equipped with two windows for ventilation and a beautiful view. The height of the alcove is about 50 to 80 centimeters.
Ideal for families
In addition to the alcove bed, the seating area can be converted into a bed for two small children and you can find it with our models another one too double bed then yes bunk bed in the back. Beds in the back also means a large garage underneath. Bicycles, pram or surf board? Everything is possible. The alcove camper is therefore ideal for a (large) family with children. Are you traveling with four people? In addition, you do not have to convert a bed into a seat and vice versa every time you want to sit inside, which is usually the case when you go camping with a bus camper. Tall people with a headroom of up to 2,3 meters can also easily cope with this primal model among motorhomes.
Watch out for signs
The alcove is less streamlined than motorhomes from the other categories, making it more sensitive to wind and sometimes slightly higher fuel costs. However, if you adjust your driving style and speed, you will hardly be bothered by this. A concern is the reduced visibility for the driver due to the overhanging alcove. Highly placed traffic lights disappear from view, but so do protruding roof panels, low-hanging branches, round tunnel ceilings or balconies and signs in picturesque villages. So you should always be careful here. If in doubt, let a fellow passenger get off to watch.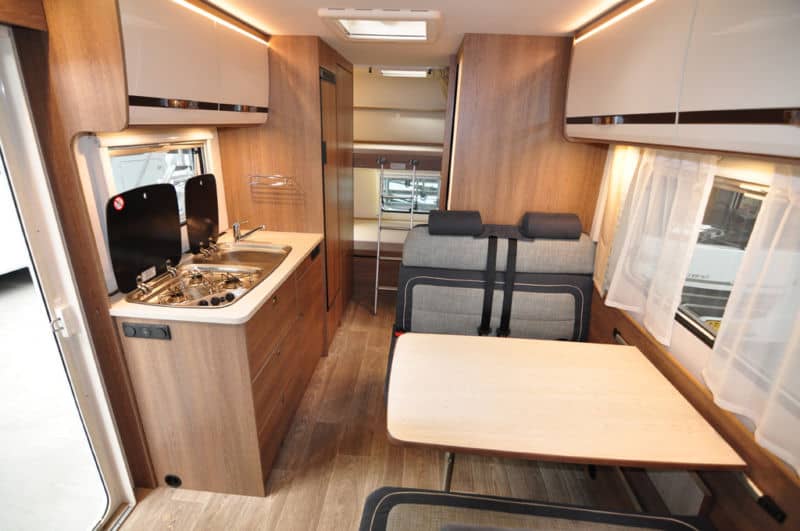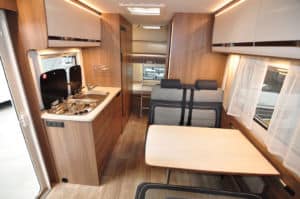 The pros and cons at a glance
Number of persons: suitable for 2 to 6 people.
Dimensions: varying from 6 to 7,5 meters long and 2,5 to 3,2 meters high.
Pros: headroom, space, generous (!) alcove bed.
Cons: wind sensitivity, higher fuel consumption and reduced visibility up.
Click here to go to our RENTAL campers.
Click here to go to our SALE campers.