As soon as you go for a buy a camper you've come to the right place. After the rental season, a large part of our rental motorhomes go on sale. With a varied range of motorhomes that are as good as new, you can buy the ideal motorhome. Well maintained, optimally furnished and equipped with every luxury and comfort. That is how we can best describe our motorhomes. In many cases, our young motorhomes still have a current manufacturer's warranty. We are happy to give you tailor-made advice. Take a look at our range and read more about how buying a motorhome works.
Our showroom
As soon as you are interested in buying a motorhome, we would like to invite you to our showroom in Aalsmeer. Here you can see the camper of your dreams with your own eyes. We are also happy to provide advice on the spot to help you make the right decision. This ultimately results in a camper that meets all requirements. In our hall we have exhibited our spacious camper fleet. Ideal to see, feel and experience what the campers look like in real life. In our opinion, this is the basis for ultimately buying a motorhome.
Showroom opening times
Closed on Mondays
Tuesday: 9.00am – 17.00pm
Wednesday: 9.00am - 17.00pm
Thursday: 9.00am - 17.00pm
Friday: 9.00:17.00 AM - XNUMX:XNUMX PM
Saturday: 9.00am - 17.00pm
Closed on Sundays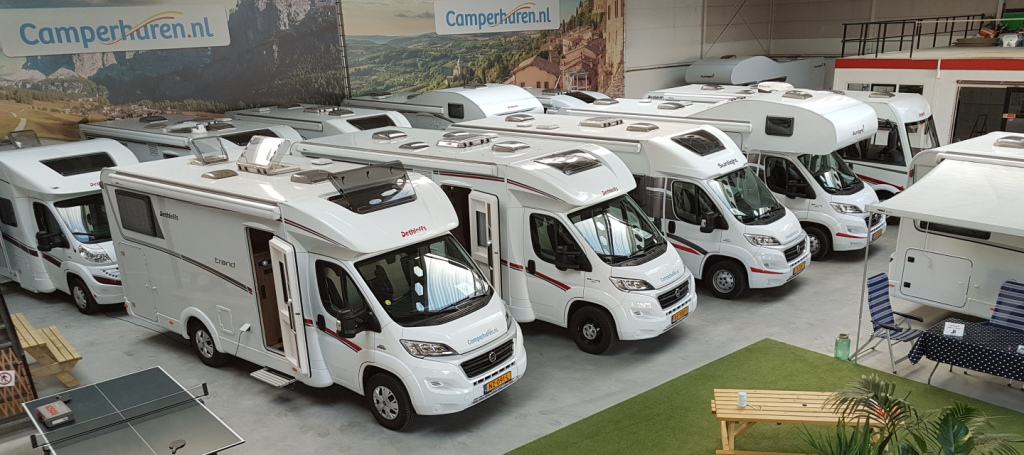 What kind of motorhome is right for me?
When buying a motorhome, you naturally go for a model and brand that fully meets all wishes and requirements. Our luxury second-hand motorhomes are therefore fully equipped. When purchased, these can also be customized with various options. In general, we make a distinction between three different types of motorhomes: an alcove motorhome, a semi-integrated motorhome and an integral motorhome. What kind of motorhome suits you best? That's up to you!
Buy an alcove camper
An alcove motorhome is ideally suited for families. In many cases, this is a spacious 6-person camper. The cabin at the top of the motorhome has a fixed double bed. There is also a queen or bunk bed in the back of the camper. In the middle of the camper, the seating area can be converted into a cozy double bed. In addition to the many sleeping places, it is also a very spacious camper. This is partly due to the headroom and layout. With an alcove camper, take into account slightly higher costs for fuel. For example, consumption is generally higher than with other types of motorhomes.
Buy an integrated motorhome
An integral motorhome has many advantages. This is a very spacious camper because the cabin is (fully) integrated with the living area. There is a lot of light through the large windows, which also enhances a spacious feeling. The driving comfort is very high because it has a large front window. This improves visibility while driving. Furthermore, an integral motorhome is known for its good insulation. And it is therefore an ideal motorhome to travel with in winter as well. However, the investment for this motorhome is slightly higher. This is justifiable because it generally keeps its value.
Buy a semi-integrated camper
Looking for a nice combination between an alcove and integral camper? Then a semi-integrated motorhome might be the motorhome for you. This motorhome has a streamlined design in which the cabin and living area gradually merge into one another. This also ensures that the motorhome is extremely manoeuvrable and less sensitive to wind than, for example, an alcove motorhome. A semi-integrated motorhome is for sale with us as a 2-person and 4-person motorhome. Despite the fact that this motorhome model is slightly more compact, you have enough space. This is because it is optimally arranged. This makes it possible to rotate the cabin seats to the seating area and to create more (seating) space.
What do you have to take into account?
In addition to choosing a specific brand or type of motorhome, there are other things that you as a buyer have to think about. To guide you in this, we have simply listed this.
Storage costs (these are often annual)
Insurance
Road tax
Dutch Periodic Vehicle Inspection
Certificates, such as a moisture measurement
To recoup the fixed costs, we offer the possibility to rent out your motorhome through us. In fact, in general we see that a return between 6,5 and 11% is achieved with this. And with that, buying a motorhome can be seen as a good investment. We take care of the entire process and make clear agreements with you regarding use and rental.
Rent before buying?
We often see that someone is not yet 100% sure about the purchase of a motorhome. As soon as this is the case, we offer the option to postpone the purchase. So first rent a motorhome and find out whether the motorhome suits you completely. Try out what facilities you need and then decide whether you actually want to buy the motorhome or not. We try to do everything we can to ensure that buying a motorhome takes place to your full satisfaction.