Do you want a buy a camper? Then you've come to the right place! After the season, a large part of our rental campers go on sale. We have a varying range cheap campers that are as good as new. The luxury campers are still young and in many cases still have a current manufacturer's warranty. We are happy to provide you with personal advice. Feel free to contact us!
Contact
Our showroom
You can always visit our showroom before buying a camper. This way you can view your dream camper! Our branch is located in Aalsmeer, in the shadow of Amsterdam. For opening hours you can go to our Contact page. Our staff will be happy to assist you in making a decision! This way you can buy a camper that meets all your needs! Would you rather get inspired yourself?
Go to our inspiration page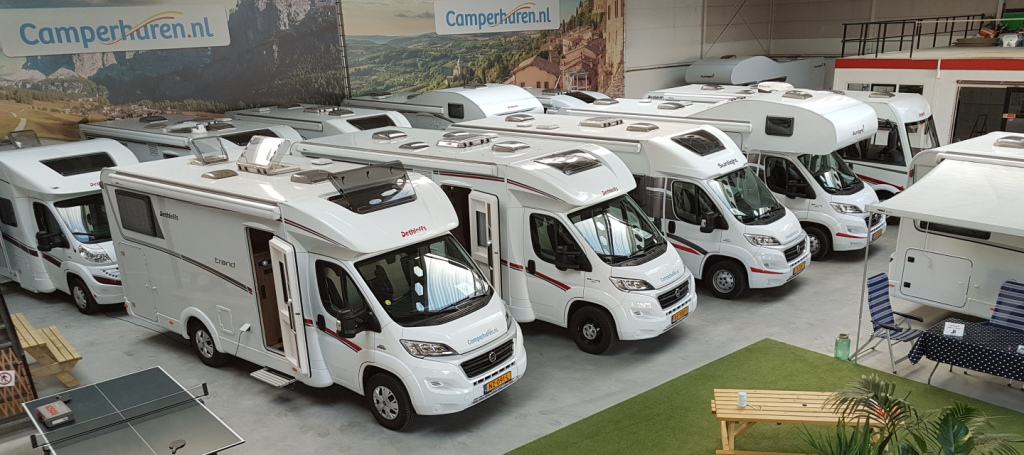 What kind of camper to buy?
You can buy a camper that is completely adapted to you and your family. Our luxury second-hand campers are fully equipped and can be expanded with various options upon purchase. We distinguish our campers in four different types:
Buy an alcove camper
An alcove camper is a spacious camper, often intended for large families. At the top of the cabin is a spacious double bed. These types of campers have a lot of luxury because there is enough standing space and the camper is spatially arranged. Minor negatives are the alcove that reduces the view from above and the fuel consumption.
Buy a semi-integrated motorhome
A semi-integrated motorhome is a mix between the alcove and the integral. This motorhome has a streamlined design, where the cabin and the living area merge. This ensures that this motorhome is more manoeuvrable and less sensitive to wind than the alcove. This leads to lower fuel costs. This motorhome is also suitable for larger families, but is slightly tighter in terms of space. These types of models are more compact, but are optimally arranged. For example, it is possible to turn the cabin seats to the seating area, in order to save space.
Buy an integrated motorhome
Do you want an integral motor home to buy? This has many advantages. This is the most ideal camper if you also plan to go out in the winter. This species is known for its good insulation. The investment for this motorhome is greater, but the species remains stable in value. The cabin is completely integrated with the living area, which frees up a lot of space. Finally, you have a lot of visibility while driving. These windows also provide a lot of daylight.
How does the camper purchase work
Not quite sure yet?
Not quite sure about the purchase of your camper? No worries! You can always choose to postpone the purchase and rent a camper first. This is the way to find out if buying a motorhome is something for you and your family. In addition, you can test whether the relevant motorhome meets your needs or not.
Do you have everything sorted out?
In addition to the choices you have to make in the type of camper, there are more things that you as a buyer must take into account. Buying a camper is fun, but you also have to take into account the additional costs:
Storage costs continue for a large part of the year
Insurance, road tax and MOT inspections
Certificates of, for example, moisture measurements
There is one way to reduce these costs, namely by letting us mediate your camper. You keep control over the camper, but if you don't need it, we rent the camper to holidaymakers. We will of course leave these neatly behind after the trip.
Buy or rent?