Have you seen a camper that you would like to buy?
All Camperhuren.nl motorhomes that are rented out can also be purchased at very favorable prices at the end of the rental season. We offer a wide variety of neat second-hand motorhomes think of, for example, large family campers, comfortable half-integrals but also smaller compact campers. In addition, every motor home is well maintained by an authorized Fiat garage and they are provided with all maintenance services. In addition, many motor homes have a current factory warranty.
The campers of Camperhuren.nl are equipped with every luxury and comfort.
They are young used motorhomes, well cared for and optimally furnished.
Are you interested in one of our campers?
Call
Buy a used camper
Buying a new camper is quite an investment. For that reason it can be extra interesting to purchase a young used copy at Camperhuren.nl, which also has a lot less depreciation. We have a wide range of luxury Sunlight and Dethleffs motorhomes in different price ranges, ranging from small and compact to large, practical and comfortable. The 'head' is off, which means that you are a lot cheaper than with a brand new camper. However, because the campers are a maximum of three years old and always well maintained by an authorized FIAT garage, you are guaranteed to enjoy freedom, nature and independence for years to come. Because that is camping with a camper, chasing your nose and enjoying limitlessly.
Type of motorhomes
There are roughly four different types of motorhomes, each with different characteristics that, depending on the use, determine your choice: alcove, semi-integral, integral en bus camper. Click on the link to read a detailed description of each type, including advantages and disadvantages. Also consider carefully what layout suits you best, especially what kind of bed. Do you want to save space with a transverse bed? Then you sometimes have to climb over each other when getting in and out of bed. Does the entry height play an important role? Do you like to sleep together in a large bed or rather separately? Do you want to close off the sleeping area of ​​the living area or opt for a folding bed so that you can transport a bicycle in the garage? Do the (grand) children have to come or do you enjoy a nice trip together? Choices, choices, choices, but we are happy to help you on your way. Take contact us for a no-obligation appointment.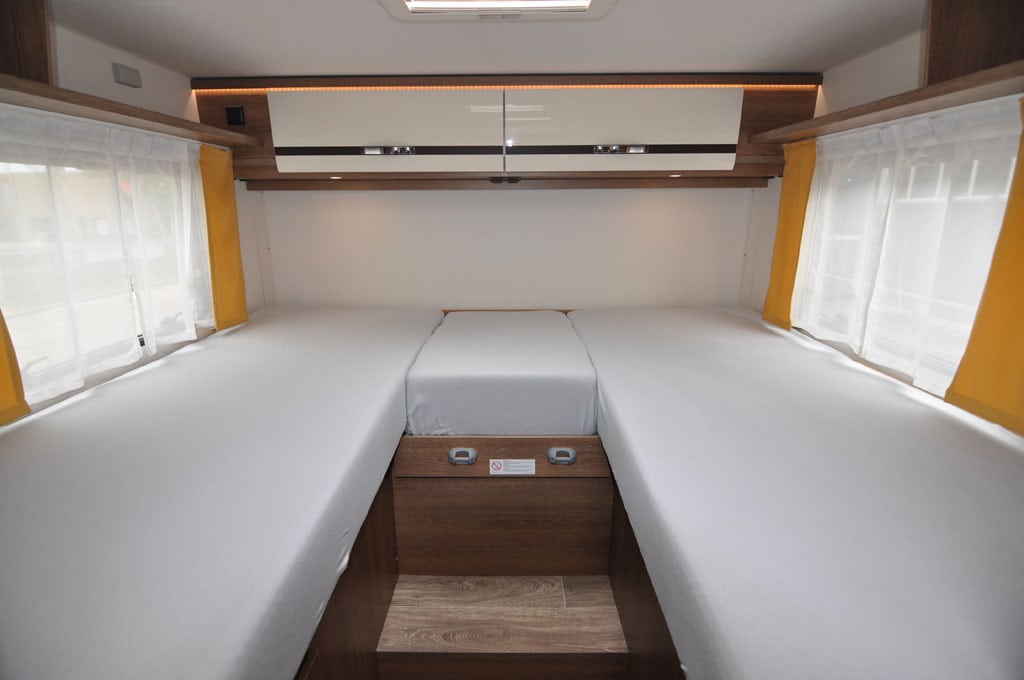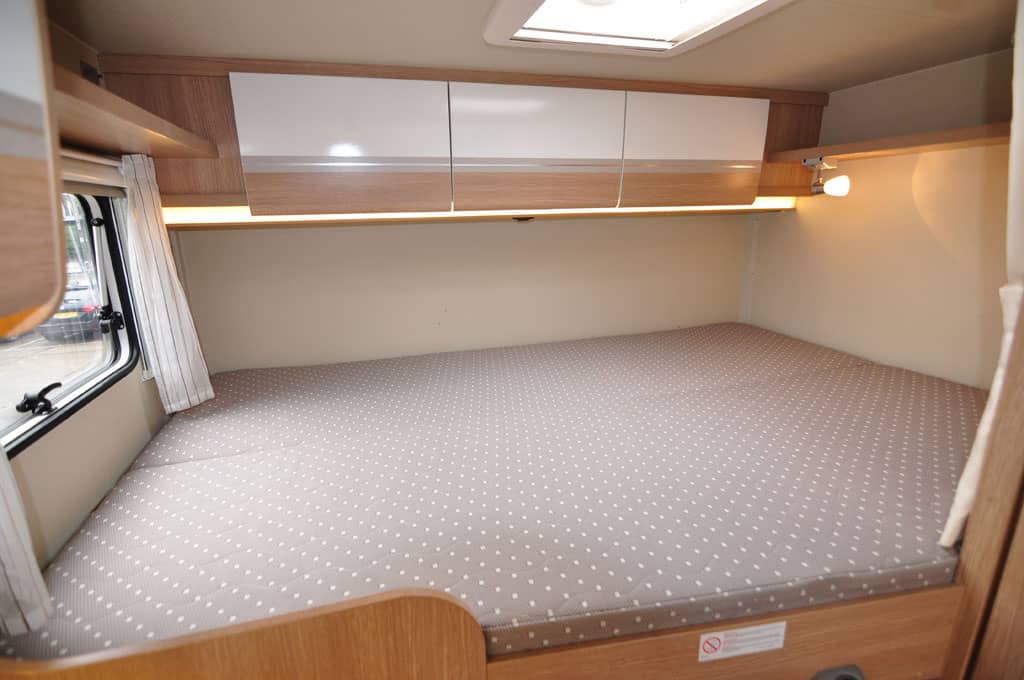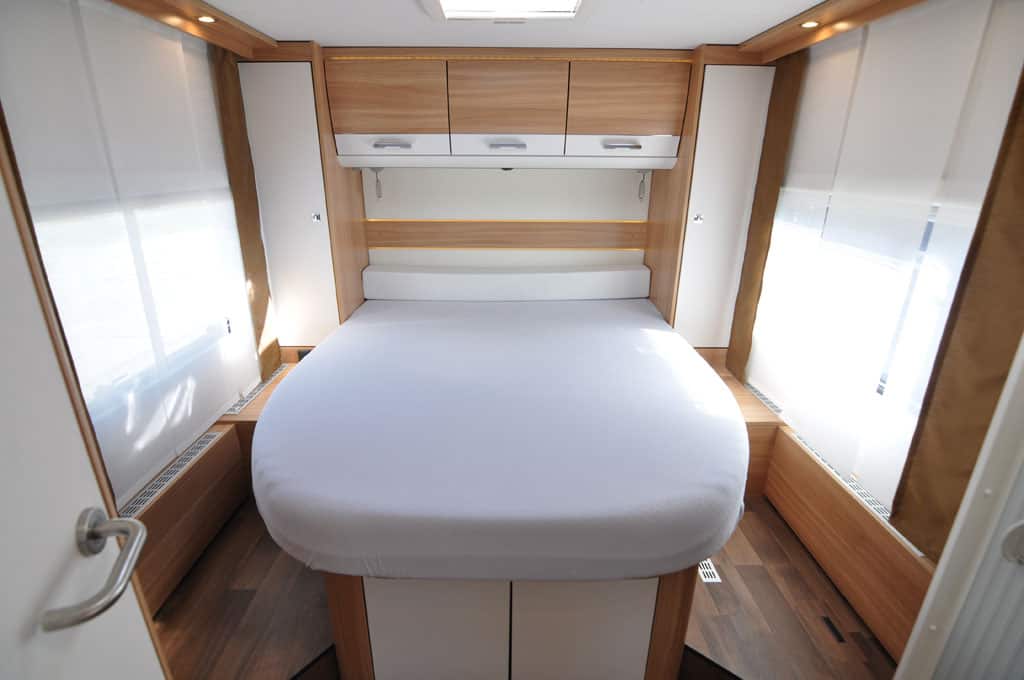 Good to Know
Independent purchase inspection
If you are going to buy a motorhome, you naturally want it to be in good technical condition. At Camperhuren.nl we stand behind our product and we can assure you that our campers are always neatly maintained by an official FIAT garage. Of course it may be the case that you would like to have an independent purchase inspection done, because it is difficult to assess as a layman. We do not find that a problem and we are happy to cooperate.
Moisture measurement
The biggest risk when purchasing a used motorhome is generally not in the chassis, but in the superstructure. This concerns the presence of moisture damage. A camper is made up of several components, often with a wooden construction. Roof plates and side walls are attached to each other by means of sealant seams. If a leak occurs here, serious damage can occur due to rotting of the wooden construction. Unfortunately, this moisture damage is not always visible because many motorhomes are finished on the inside with decorative panels. An extensive moisture measurement can help with this. The campers at Camperhuren.nl are subjected to an extensive moisture measurement as standard, so that you are assured of a moisture-free camper. You will also receive a watertightness certificate upon purchase.
Maximum permitted mass
All our campers have a maximum permitted weight of 3.500 kg. The roadworthy weights are between 2.630 kg and 2.950 kg, so there is still a considerable difference. Curb weight typically includes one 75 kg driver, a full 90 liter fuel tank, a 20 liter clean water tank, a 15 kg gas cylinder and a reel. Do you want to take a lot of luggage with you or have extra accessories installed, such as solar panels or a satellite television? Then pay close attention to the maximum permitted weight. When in doubt, you can always have the camper weighed so that you will not be faced with unpleasant surprises afterwards. Compare the weighing results with the specifications on the type plate or on the registration certificate.
Test drive
We all fit new trousers, so why not take a test drive in your new camper? You spend a lot of time in the cabin seats, driving or turning around in the interior. Therefore, assess both seating positions whether you can sit comfortably and ergonomically there.
Additional costs
Costs that are added anyway are road tax, insurance and fuel costs. In addition, it is advisable to think about the storage of your camper. Do you do this in an indoor shed elsewhere, on your own property or on the public road? In the latter case, check the APV (General local ordinance) of your municipality. Mediation via Camperhuren.nl is also an option. We will rent out your motorhome when you are not on the road yourself. The great thing about mediation is that your camper is stored at Camperhuren.nl, that we take care of the publicity and maintenance and that you can achieve a good return.
Mediation via Camperhuren.nl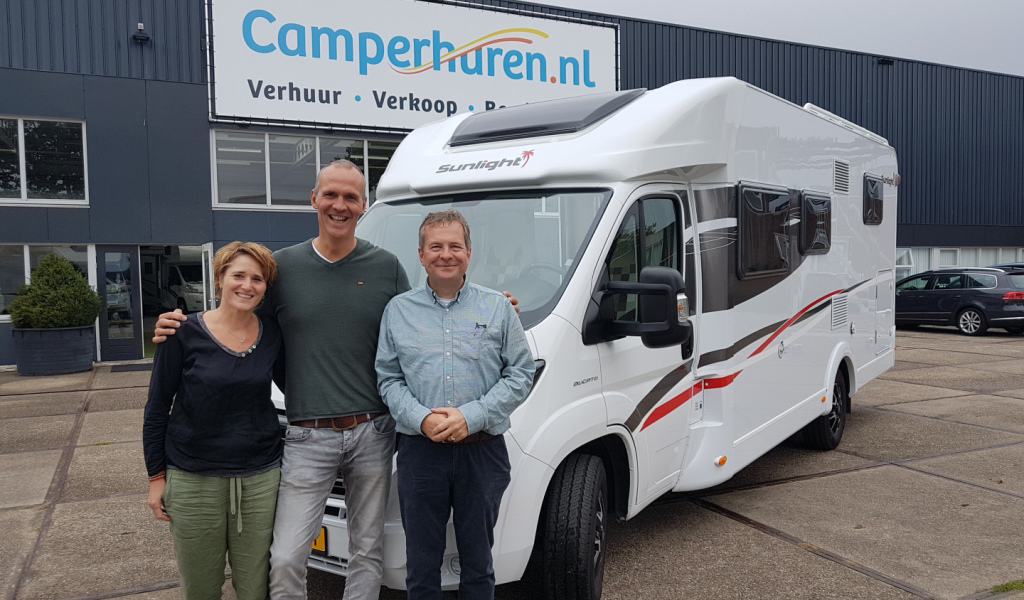 Why buy at Camperhuren.nl?
German quality brands Dethleffs and Sunlight;
Good personal service;
Young campers (maximum 4 years old);
Excellent maintenance at an authorized FIAT garage;
Equipped as standard with an awning, bicycle rack, complete kitchen (3-burner gas cooker, sink, fridge and freezer), shower and toilet;
Very many options at extra cost possible;
Many models still have a current factory warranty;
All campers are delivered spik and span, polished and the structure is completely checked;
All campers receive an extensive moisture measurement and you will receive a watertightness certificate upon purchase;
For the transfer to the new owner, the campers all go to an authorized Fiat garage for maintenance. This means that the first 5.000 km are maintenance-free.
Characteristics Sunlight and Dethleffs
Sunlight and Dethleffs both belong to the Erwin Hymer Group. Sunlight is a bit fresher and more sporty for the day. Sunlight's philosophy: the production of high-quality, affordable motorhomes for a wide audience. At Sunlight, the most modern safety techniques such as ABS, EBD and driver's airbag are self-evident and are therefore standard equipment. The standard equipment is attractive and comprehensive in any case, without unnecessary "fuss".

Dethleffs motorhomes stand for the highest quality, first-class workmanship, individual equipment and in any case a lot of safety and fun. Of the seven series that Dethleffs has in production, you will find three at Camperhuren.nl: the Trend, the Pulse and the Advantage Edition. The Advantage series has been replaced by the Pulse from 2019. The Trend is a motorhome for the sporty and price-conscious motorhome. The Advantage Edition is characterized by excellent standard equipment. From the 142 liter refrigerator and extra wide entrance door to the spacious L-shaped seating group. One of the striking features of the Pulse is the special light composition Light Moments, which brings atmosphere and cosiness to the Pulse.
Do you have any questions?
After reading all these tips, nothing will stand in your way anymore to find your dream camper. View our young used occasions here. Do you have any questions? Then don't hesitate contact to contact us. We are happy to help you on your way. Of course you are also welcome in our showroom to view and discuss everything while enjoying a cup of coffee.