A motorhome driving is easier than you might think. If you are used to driving a car, it is certainly doable to drive a camper. However, it is good to check in advance what you have to take into account. That is why we have also listed tips. Take the size of the motorhome into account, pay attention to parking and reversing, keep to a (lower) speed with a good distance from others and finally check which driver's license you must have. If you have any further questions, you can always contact us.
Rent motorhomes
Family bunk bed
Number of persons: 6 Price from € 745 per week
Family double beds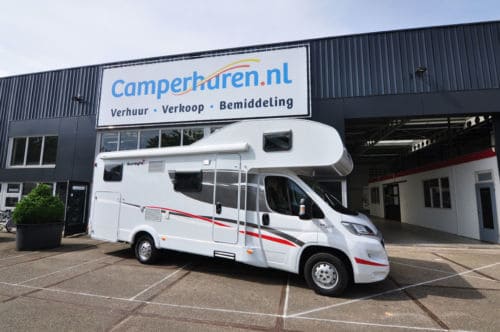 Number of persons: 6 Price from € 795 per week
Family Plus Double Beds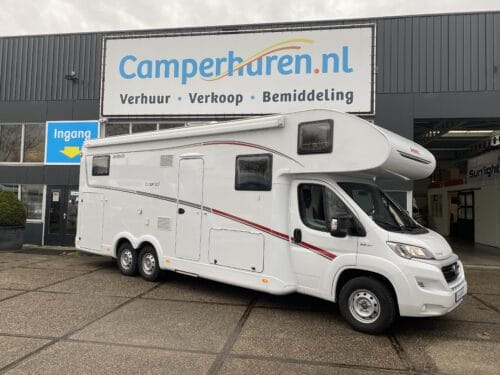 Number of persons: 6 Price from € 1150 per week
Take the size into account when driving a motorhome
Please take the size into account during a camper holiday† For example, a camper is often one whole meter wider than an average car. Teach yourself to drive closer to the left-hand line on the road. Adjust the lower mirrors so you can see where the RV is on the road. When cornering, it is important to know that the rear wheels are not in the same direction as the front wheels. They take a shorter route. Keep driving until the objects have passed your own body. And keep an eye on the mirrors to make sure you don't hit anything. The rear of the motorhome can also swing out while driving a motorhome. That is why it is important to take the bends slowly. Again, it is important to keep an eye on the possible obstacles in the mirrors. Make wide turns and no sharp turns to avoid possible damage.
Parking and reversing driving a motorhome
Driving with a motorhome is recommended to avoid tighter parking spaces. Especially if the view of the obstacles is minimal. It is also often useful to have someone who gives additional instructions while parking. Continue to teach yourself to rely on the mirrors of the motorhome. For example, looking over your shoulder and using the rear-view mirror – as is often done in a car – is often not useful. It is also important not to rely entirely on the rearview monitor. This is often aimed at the ground and does not take into account obstacles that are higher (such as signs and low hanging branches). One compact motorhome occasion driving backwards is otherwise similar to a car. For example, the mirrors must be set so that the sides of the motorhome can be seen up to and including the bumper.
Keep speed & distance while driving a motorhome
Heavy vehicles take longer to brake than lighter vehicles. That is why it is important to take this into account when driving a camper. How much time this is differs. Because you have control over the driving speed, it is also recommended to reduce it. This will immediately save you some extra fuel. It is also advisable to reduce the following distance on the vehicle in front of you. That is the best way to prevent accidents. Another advantage: natural spaces are created on the road between you and other road users. This makes driving more relaxed and nicer to arrive on location calmly.
Which driver's license do I need to drive a motorhome?
Driving a camper of a maximum of 3.500 kilograms that transports a maximum of 8 people may be driven with a 'normal' driving license B. For heavier motorhomes you need a driving license C or even C1. Weight refers to the maximum permitted maximum mass. This consists of the empty weight plus the maximum payload. Campers or buses with more than eight seats may only be driven if you have a bus driver's license (D or D1). Below you will find an overview when you need to have which driver's license.
| max. weight motorhome | max. number of seats (not including yourself) | Drivers license |
| --- | --- | --- |
| Up to 3.500 kilos | 8 | Driving License B |
| Between 3.500 and 7.500 kilos | 8 | C1 driving license |
| More than 7.500 kilos | 8 | Driver's license C |
| na | 9 to 16 | Driving license D1 |
| na | More than 16 | Driver's license D |