Do you want by a camper trip Sweden to discover? Then this page is for you! With our tips and campers you get the most out of your camper trip through Sweden. You can easily rent a camper with us hhours for your trip. These are optimally resistant to the (sometimes) harsh weather conditions of Sweden. Take for example our integral camper; perfect insulation so that you and your family don't just have to sit in the cold. View the rentable models below!
In addition to available rental campers, we also give you the necessary tips to get through your time! We have listed all the fun trips for you. Read more!
A visit to Sweden can certainly not be missed camper trip through Scandinavia. Sweden is known for its beautiful nature with alternating forests, mountains and lakes. There are also special animals and beautiful cities to be found. A motorhome is the ideal way to explore this beautiful country. Read on to find out more about Sweden for your motorhome holiday.
With the camper through Sweden
A camper trip through Sweden is great. In Sweden the roads are very quiet and you can drive for miles with the camper without encountering an oncoming vehicle. You can reach Sweden by camper via the bridge connecting Copenhagen to Malmö or you can choose to take the ferry connection. You can choose to make a small camper trip through Sweden prior to the camper trip or afterwards Denmark, Germany or a scenic route The Netherlands. After all, this is on the route! That way you get even more of it Europe to see!
Once you have arrived in Sweden, you don't have to pay much attention to toll roads. There is one exception between the connection of Sweden and Denmark, namely the Oresund Bridge. In addition, there are a number of cities where environmental taxes are requested. The capital Stockholm is also included. View here the Swedish Toll System. It is mandatory in Sweden to have a warning triangle. In addition, there are different permitted speeds, on NKC you can view the maximum speeds in Sweden.
Go to NKC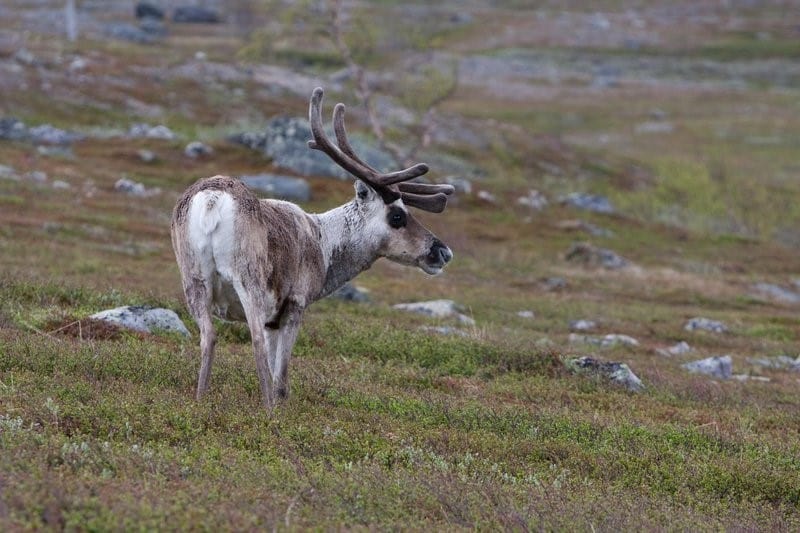 Wild camping during your camper trip Sweden
Yes, you read that right. Wild camping is allowed during your camper trip Sweden! For most campers, this is the ultimate dream come true. In Sweden, everyone's right is in force, which means that you can spend almost anywhere for up to 24 hours. On the website of Visit Sweden all rules regarding wild camping can be found.
Sweden as a holiday destination
Sweden is of course known for IKEA, ABBA and Pippi Longstocking. The land consists mainly of nature and is very wooded, there are also a number of beautiful national parks. The climate in the south is similar to that of the Netherlands, but the further north you go, the cooler the temperature will be. In general, autumn starts a lot earlier than in the Netherlands, the days get shorter and the evenings cooler.
In the south you can find most of the major cities, starting with the capital Stockholm. You also have Gothenburg, Malmö and Uppsala. The language of communication in most Swedes is Swedish. Most Swedes also speak good English. In Sweden they pay with the Swedish krona (SEK), see Coinmill for the current exchange rate. The distance from Amsterdam to Stockholm is approximately 1.128 kilometers.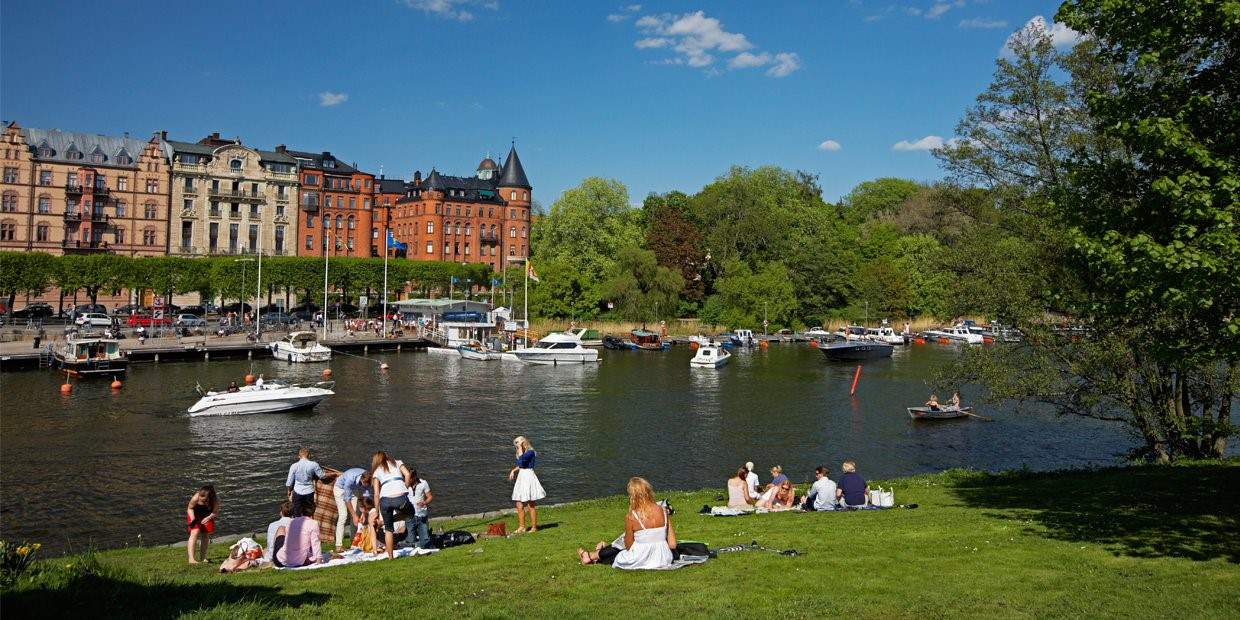 Attractions Sweden
In such a large country as Sweden, there is of course plenty to do during your camper trip. Whether you like city trips, or prefer to explore the rugged nature; something for everyone! View the sights and places that you really should have visited below.
Cities
The rugged nature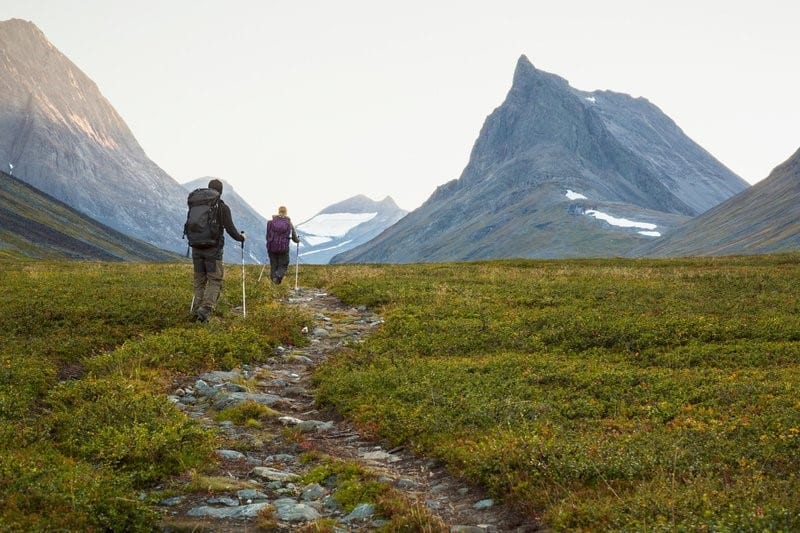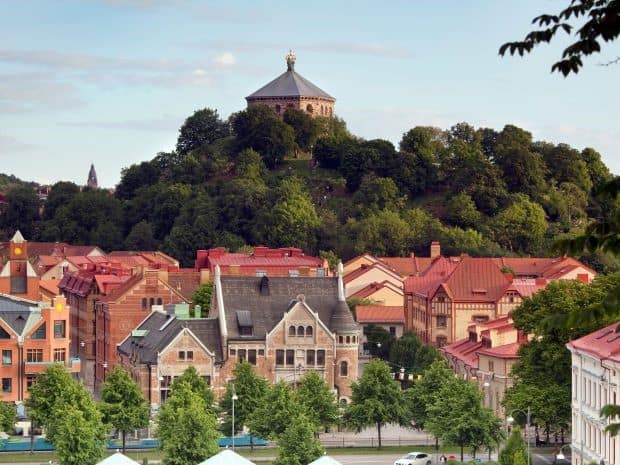 Eating and drinking in Sweden
The most famous Swedish food is smörgåsbord, you can compare this with a 4-course buffet with a lot of fish and meat, you will certainly encounter this during your camper trip to Sweden. The buffet starts with a herring buffet, here you get different pickled herring. The second course is salmon prepared in different ways. As a third course there are cold meat dishes and the last course you get warm meat dishes. As if it were not enough, you often have the choice of small side dishes such as shrimp, crab, salads, potatoes or bread.
Another well-known Swedish dish is Köttbullar, these are Swedish meatballs. These meatballs are often eaten with different types of pasta. They are prepared with special herbs that give them a very special taste.
Many restaurants in Sweden are not cheap. This does not mean that you cannot eat out at all. You can save money by, for example, eating hot food in the afternoon instead of in the evening. While in Stockholm you can visit the eateries in the underground market on Hötorget square. Here you will find several cheaper restaurants. At the Hötorget market you will also find affordable fish restaurants where you can eat typical Scandinavian food. In Sweden tips are automatically included in the price. It is therefore not necessary to give extra tip on top of the regular price.
Tap water in Sweden is clean and drinkable. The water from the flowing mountain streams and rivers is also of drinkable quality. Swedes are real coffee drinkers, so there are a lot of coffee shops to be found. A typical Swedish snack with coffee is a Kanelbulle, this is a Swedish bun with butter-cinnamon filling. If you order a cup of coffee (or tea) in Sweden, it is customary that you can refill your cup again for free. This is called påtår and is included in the price (påtår ingår). If it is not clearly stated, you can always ask for it. However, it only applies to regular coffee and not, for example, cappuccino. Alcohol prices on a terrace or in a restaurant will be higher than in the Netherlands. In addition, alcohol with an alcohol content of 3,5% may not be sold everywhere, you have to go to a state liquor store.


Useful information
Emergency number: 112
Breakdown:
Assistancekåren: tel: 0046 - 020-912 912.
Roadside Assistance (Vägverket): + 46- (0) 771-119 119
(Swedish 'ANWB'): + 46-8-690 38 50
Current traffic information:
English telephone traffic information: +46 07 71 24 24 24.
Everything about toll roads in Sweden