You don't have to be far from home to get away from it all. In fact. The best holidays are often closer to home than you might think. A route in the neighborhood is also feasible to do in a weekend or within a week. Our advice? Go for a camper route Ardennes to discover this beautiful area. Every motor home owner should go to this area with his motor home. The area for beautiful camper routes. And with a camper you always have the holiday home with you. After all, you have reached the Ardennes within a few hours' drive.
Our campers
View our available campers
A three-day trip through the Ardennes
This route is ideal for a short camper trip through Belgium. Start in the picturesque town of La Roche-en-Ardenne. As soon as you wake up here the next morning, it is time to visit the center. The beautiful town on the Ourthe has many nice shopping streets. High above the town you will also find a castle. This is from the 11th and 14th century. A nice piece of history. And building on that, you can also visit the war museum and monument. Learn about World War II and how the town was bombed to the ground at the time. All on this camper route Ardennes.
Then continue to (the almost even more beautiful town on the Ourthe) Durbuy. Take a leisurely stroll through the beautiful streets with old houses, beautiful statues and nice restaurants and shops. And feel that you are completely relaxed. You will then find Durbuy Castle on the Ourthe. Experience the historical atmospheres that hang here. In short, a beautiful area for walking and a piece of culture from the camper route Ardennes.
During the last day, make a stopover in Liège, where a large Sunday market can be found every week. A large elongated market along the Maas always gives a busy and above all a cozy atmosphere in Liège. Have a rest on a terrace. And continue your route home as soon as a delicious Liège waffle has been eaten. Our tip: leave the camper outside the city and take the bus to Liège center. Of course you can still choose to extend the camper route Ardennes. Then drive on for an extended one camper trip France...
Beautiful scenery
Of course there are several ways that lead to Rome lead the Ardennes. Therefore, combine numerous camper routes that you find in the Ardennes. Convert this completely to your own wishes. And then hit the road with a camper route Ardennes that is completely to your liking! Regardless of the route, it is certain that you will enjoy the beautiful landscape. The extensive forests are a wonderful place to relax. And also get in touch with the friendliness that the inhabitants of the Ardennes have to offer.
Picturesque streets
At Graach an der Mosel you will find a beautiful camper place a stone's throw from the town of Bernakastel-Kues. Without a doubt, this is the most beautiful town in the Moselle valley. Beautifully restored half-timbered houses with devout wisdom written in golden letters give the city a special grandeur. In the narrow streets and alleys, the buildings are occasionally so crooked that the roofs almost touch each other. Stroll and stroll through the town for an afternoon. The market square is also a feast for the eyes. And given the hustle and bustle that is going on there, we are certainly not the only ones to find this. As soon as you're done, you can take the plunge and continue the Moselle camper route to the castle on top of the mountain. Ultimately, you earn a beautiful view with this.
In Ernst there is a camper place at a winery with a tasting room. And since the Moselle camper route is known for its Moselle wines, a visit to this tasting room is an absolute must. Therefore, stop by and take a look at the factory. About 70 million liters of wine are produced here every year. More than 6 million bottles of wine are stored there. Discover the passion and the story of wine from the Moselle.
Fairytale beautiful
During the Moselle camper route you have to go past at least one castle. And we highly recommend visiting the famous Burg Eltz in Wierschem. This is said to be the most beautiful castle in all of Germany. And looking at just the images, this could just be right. Upon arrival you will see a fairytale castle with many towers and smaller turrets. Because the castle has never really been damaged and has been beautifully restored, everything still looks tip-top. A lust for the eye!
Its strategic location on rivers has brought both prosperity and destruction to Koblenz. And therefore also: repair work. The city is now beautifully situated and it is a real pleasure to stroll along the boulevard. Take a gondola to Ehrenbreitstein Fort on the other side of the Rhine. This is the largest fortress in the world. Walk with this Moselle camper route in the Altstadt with colorful buildings, beautiful shopping streets, nice statues, beautiful squares and cozy terraces. A real pleasure.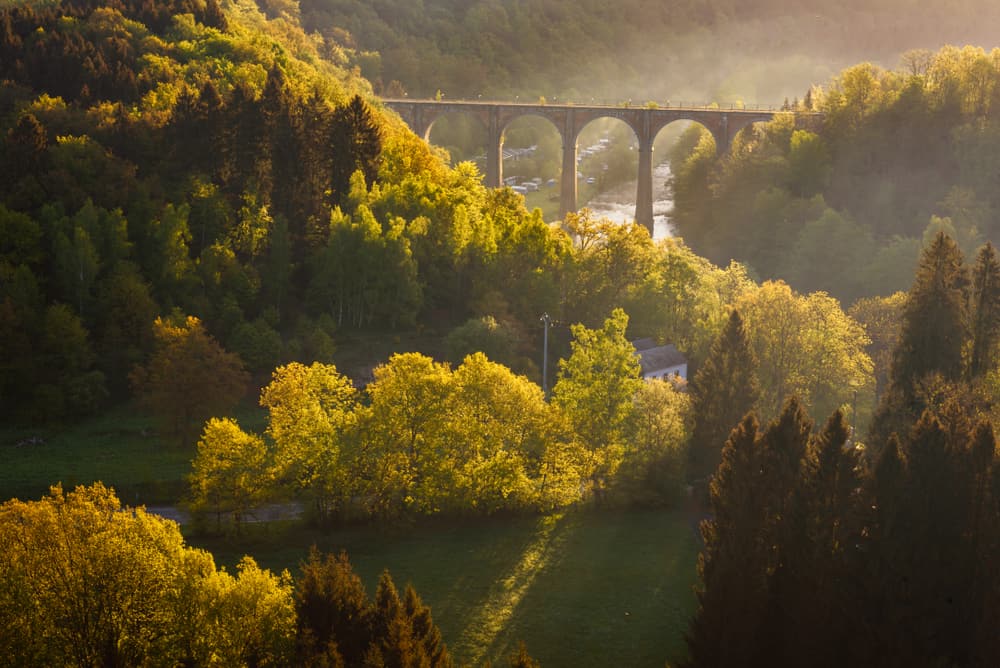 Broaden your horizon
Of course it is not wrong to follow a camper route Ardennes. And be amazed by what nature has to offer closer to home. But broaden your horizons by looking at other places closer to home. Take a trip along the Belgian coast, for example. Discover new and unique places within our own little country. Or go on a voyage of discovery to new areas and natural phenomena in Germany. This not only ensures that you discover new places. But you also continuously take on the challenge for yourself to broaden your horizon. And thus be open to new areas with different highlights. Below we have listed possible interesting camper trips for you.