Come work at Camperhuren.nl!
You will experience freedom and a carefree holiday with a motorhome. Do you want to give our customers the ultimate holiday feeling with your enthusiastic colleagues? You can make a great contribution to this with one of these jobs: camper rental employee, trainee marketing and communication employee, cleaning help.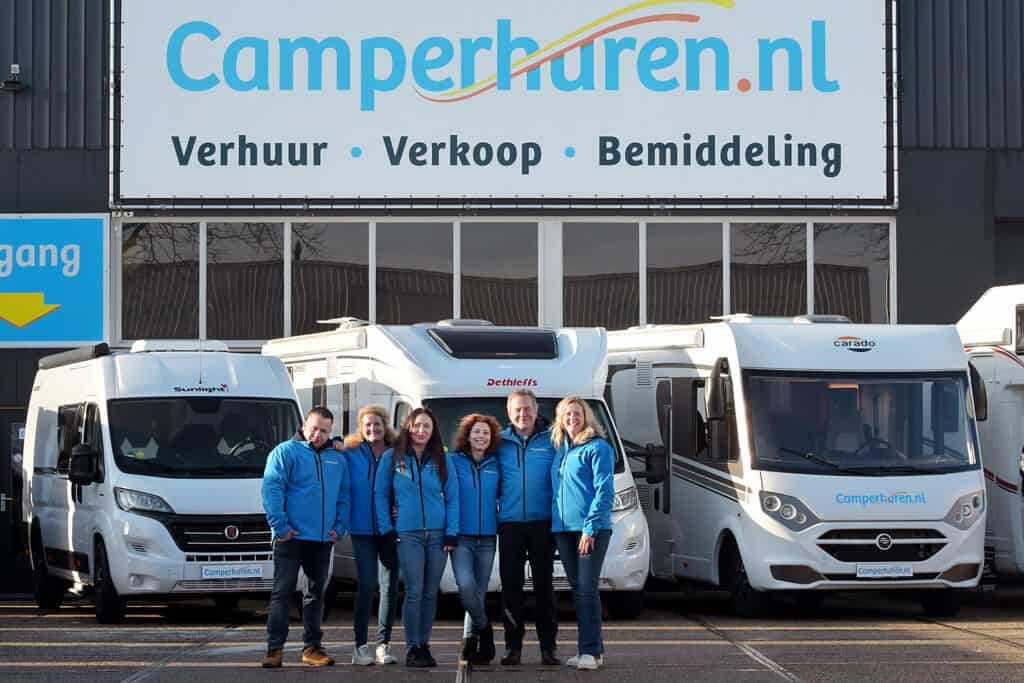 VACANCY 1: Camper rental employee
Multi tasker wanted!
As a camper rental employee you work in a small, close-knit team. Together with your colleagues, you ensure that the rental is well arranged, so that customers can have a wonderful camper holiday. You keep the administration of the campers and you make reservations. You email and call customers and suppliers. In the showroom you talk extensively with customers about rental and sale of campers.
On changeover days you help customers with the issue and collection of campers, prepare the campers for departure, answer questions about their camper holiday and do all the administrative work that goes with it.
Do you keep a cool head when you keep switching between all these activities? Then the job as a camper rental employee at Camperhuren.nl is probably something for you!
You…
likes teamwork, is self-reliant, resistant to stress and dares to make decisions;
are a host or hostess in heart and soul;
have a commercial attitude;
likes to have variety in your work;
likes to think and do;
have at least MBO thinking and working level with at least 3 years work experience in a similar position;
have extensive experience with various computer skills (including Microsoft Office).
You are also willing to work on Saturdays regularly.
We offer you:
a dynamic environment where every day is different;
a small team with enthusiastic colleagues;
motorhome trips, so that you can experience for yourself what you rent and sell;
a salary between €2.500-€3.000 on a full-time basis;
part-time or full-time employment, 4 or 5 days a week.
More about the feature:
As a Camper Rental Employee, you can easily approach customers in the showroom and speak to them on the telephone. You welcome them on departure and explain everything about the camper to them. You will receive them again upon arrival and you will check the camper together. During the sales season you speak to customers and show them around the hall.
Every day you answer questions via email, make reservations and deal with the associated administration. You pick up everything to support the work that comes with the rental and sale of the campers.
You work in a team with colleagues from cleaning, workshop, administration and camper rental and sales. Together with your colleagues you prepare the intakes and issues on the work floor, so that the campers are ready for departure.
Thursday, Friday and Saturday are our busiest rental changeover days. During the winter, we regularly hold Open Days on Saturdays and customers visit our showroom. These days you will be found in the hall a lot. You fill in the rest of the week with the work at the office around the rental and sale of the campers.
About Camperhuren.nl:
Camperhuren.nl rents out luxurious, comfortable campers for 2 to 6 people. When you enter the showroom you immediately get the holiday feeling. We think it is important that everyone can enjoy a motorhome holiday to the fullest. That's why we provide all the guidance clients need before and during their journey.
The company was founded as a hobby in 2008 with three campers and our growing organization now has 50 campers.
The campers are rented from April to October and are sold as much as possible during the winter months. The fleet is therefore renewed and rejuvenated annually, so that we can deliver consistent quality.
Application procedure
Would you like to meet and experience what it is like to work here? We would like to invite you for an introductory meeting. Please contact Daniëlle Rauwenhoff via info@camperhuren.nl or apply directly via the application form.
Vacancy 2: Trainee marketing and communication employee
Job description
We are looking for an enthusiastic HBO intern who wants to participate in marketing at Camperhuren.nl for a number of months (under good supervision, of course. We are looking for someone with a passion for travel and camping who wants to do customer research. You get a lot of freedom to shape your internship and initiative and own ideas are appreciated!
What you get
• Good internship supervision.
• Sufficient time to possibly carry out an internship assignment for your study program.
• Own workplace and computer
• A nice working environment where you will learn a lot but there is also time for a joke.
What do we ask from you?
• Working on a HBO education related to marketing or business economics.
• You have a passion for traveling and / or camping;
• Good command of the Dutch language;
• You are independent, have a flexible working attitude, are customer-oriented and enterprising.
The Organisation
Camperhuren.nl rents out luxurious, comfortable motorhomes for 2 to 6 people. At the end of the season, our rental campers are also for sale. We think it is important that everyone can enjoy a motorhome holiday to the fullest. That's why we provide all the guidance the customers need, before and during their trip.
Has your interest been aroused? Then we would like to receive your motivation and CV. Attn Danielle Rauwenhoff via info@camperhuren.nl or apply directly via the application form.
VACANCY 3: Cleaning help (Friday and Saturday, holidays)
Activities:
Cleaning the campers inside and out and regularly cleaning the office, canteen and showroom.
After a wonderful holiday, customers return their camper between 9 and 11 am. You clean the camper inside and out, check the inventory and ensure that the camper is clean and ready to go with the next holidaymaker in the afternoon. On busy days in the high season, it may just be that 8 campers have to be cleaned, but you don't turn your hand around for that. Together with your colleagues you will complete this job.
Do you like tackling and are you accurate? Then respond and help to give our customers an unforgettable camper holiday. For more information, please contact Daniëlle Rauwenhoff via info@camperhuren.nl or apply directly via the application form!
Apply directly!